Who is Pastor Paul Enenche?
Pastor Paul Idoko Enenche is the founder and general overseer of the Dunamis International Gospel Centre, as well as a preacher, doctor, and author. He is currently the senior pastor of the church's Abuja branch.
Also Read: Pastor Eno Jerry Eze Biography, birthday, Age, Husband
Biography
Pastor Paul Enenche was born on June 12, 1968. He was born in the Nigerian village of Orokam to royal parents.
Dr. Paul is the son of Chief D. Enenche, the notable paramount ruler of Benue State's Ogbadibo Local Government Area. He was, however, raised as a Methodist by his mother, Titi Enewa Enenche, who also raised his siblings in the Lord's way. He claimed that his mother always woke them up for morning devotion, which he claimed benefited his life.
Paul Enenche's two brothers and sister are John Enenche, Sammoses Enenche, and Veronica Enewa Enenche. His older brother is Major General and former Army officer John. His sister, Veronica, is an evangelist, and Sammoses is a reverend.
Pastor Paul Enenche earned his bachelor's degree in medicine and surgery from the University of Jos. While in school, he also joined the Deeper Life Campus Fellowship.
Learn More: Whitemoney BBNaija Biography, Real Name, Cars, and Net worth, Wife
Age and Birthday 
Pastor Paul Enenche was born on June 12, 1968. In 2023, he will be 55 years old.
Wife and Personal Life 
Becky Enenche, who is both a pastor and a doctor, is married to pastor Eneche. Becky was like a spiritual daughter to him. They met in school. Their love for each other grew stronger, and in 1994, they got married.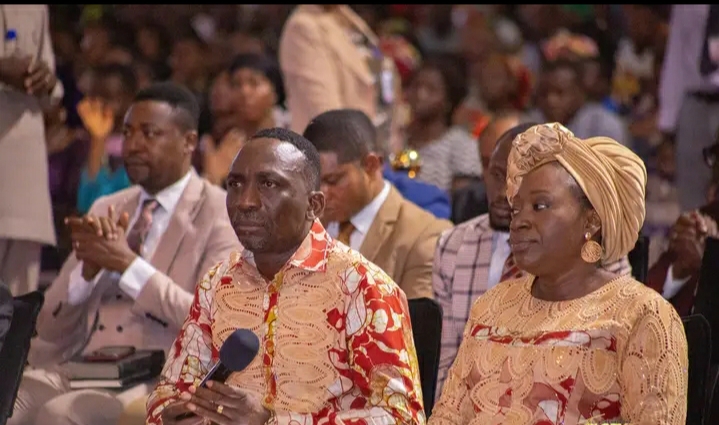 Her husband, Paul Enenche, is two years older than her. Before she got married, her name was Rebecca Inyangbe Ibu. Now, she goes by the name Becky Enenche. She has been trained as a Medical Doctor, Pastor, Televangelist, Musician, and Educationist.
Paul and Becky Enenche are happily married and have four children.
Read More: Queen Latifah partner, Biography, Age, Net Worth, Children
Net Worth
Paul Enenche is one of the richest pastors in Nigeria with churches across the country. Also, he is the author of many books on self-improvement. As of 2023, Pastor Paul has an estimated net worth of $25 million.
Career
According to Pastor Paul Enenche, who claims to have been called by God to serve as a pastor rather than practice medicine after completing his schooling, he was given the opportunity to work as a doctor after graduating from medical school but instead chose to focus on spreading the gospel.
On November 10, 1996, Pastor Paul Enenche founded the Dunamis International Gospel Centre Worldwide. Since its inception, the church has expanded to become one of the largest and most well-attended congregations in Nigeria, with locations in over 20 of the country's states.
The Dunamis church in Nigeria operates its very own satellite television station known as Dunamis TV/Radio. This station has more than three million viewers.
He is the publisher of "The Seeds of Destiny," a monthly daily devotional that is written for Christians.
Bishop David Oyedepo and Pastor E.A. Adeboye are considered to be Pastor Paul Enenche's spiritual fathers and mentors, respectively.