Who is Ike Ekweremadu?
Ike Ekweremadu (born May 12, 1962) is a Nigerian politician and lawyer from Enugu State who has served in the Nigerian Senate since June 2003.
He is a member of the People's Democratic Party and served as Deputy President of the Nigerian Senate for three (3) consecutive terms (the sixth, seventh, and eighth).
Also Read: Omoyele Sowore Net Worth and Biography, Age, Career
Biography
Ike Ekweremadu is a Nigerian senator who has served in the Nigerian Senate since May 2003. He is a public speaker, federalist, lawyer, philanthropist, and author.
He was born on May 12, 1962, in Amachara Mpu, Enugu State, to the royal family of the Late Igwe Mathias Ekweremadu.
Learn More: Nkechi Blessing Sunday Biography, Net Worth, Age, Career, Husband
Ike received his secondary education at Boys Secondary School, Umueze Awkunanaw, and St. Dominic's Secondary School in Ugiri, Imo State, before attending the University of Nigeria for his bachelor's and master's degrees in law.
He also holds a Doctor of Philosophy in law from Nigeria's University of Abuja.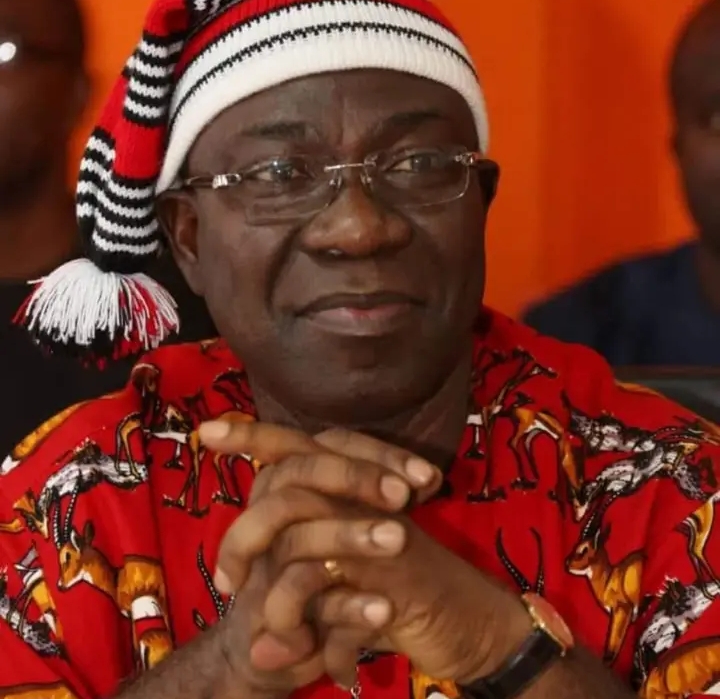 Age and Birthday 
He was born on May 12, 1962, in Amachara Mpu, Enugu State, to the royal family of the Late Igwe Mathias Ekweremadu. He is currently 60 years.
Personal Life
Ike is married to Lady Nwanneka Ekweremadu, PhD, and has four children with her.
Net Worth
As of [year], Ike Ekweremadu has an estimated worth of $10 million. We cannot independently confirm this, however.
Career
Ike Ekweremadu started his political career from scratch. As Enugu State Mpu Town Union Chairman, he began serving the people.
When Aninri Local Government was established in 1997, he became its first chairman. In 1997, he won Best Council Chairman.
Ekweremadu served as Enugu State Government House Chief of Staff and Secretary from 1999 to 2003.
Ike Ekweremadu won his first Senate election in 2003. He represented Enugu West Senatorial District as a Peoples Democratic Party senator (PDP).
In 2007, he became Senate Deputy President. As deputy President, he assigned southeast zone committee chairmanship positions, which some senators disliked. Ojo Maduekwe's controversial ministerial nomination was defused by Ike Ekweremadu in July 2007.
Ike Ekweremadu co-chaired the Peoples Democratic Party's Anambra State governorship primary elections in September 2009. He led ECOWAS in September 2009. And was on an ad hoc committee to restore constitutional order in Niger. He became regional parliament speaker in August 2011 after being elected First Deputy Speaker of the ECOWAS Parliament. Deputy Senate President again in 2011.
He was re-elected as a senator for Enugu West Senatorial District in 2015. He was reelected Senate Deputy President.
Ekweremadu has several motions and bills. He chaired the 1999 Constitution Review Senate Ad-hoc Committee. The National Assembly Constitution Review Committees' Electoral Reform facilitated 2011's free and fair elections.
2022 Organ Harvesting Conviction in the UK
On 23 June 2022, the UK Magistrate's Court charged Ekweremadu, his wife, his daughter Sonia, and Dr. Obinna Obeta with conspiring to arrange the organ harvesting travel of a 21-year-old from Lagos to the United Kingdom.
On March 23, 2023, Ekweremadu, his wife, and Dr. Obinna Obeta were found guilty of conspiring to use the man for his kidney. At the Old Bailey trial, prosecutors stated that the victim was brought to the United Kingdom in 2022 to donate a kidney for an £80,000 private transplant at the Royal Free Hospital in London.
The prosecution has confirmed that the maximum sentence in the case involving organ harvesting is life in prison. The organ was to be extracted and given to the couple's daughter, who had been exonerated of the same crime.