Instagram is one of the most popular social media platforms in the world, and Nigerian celebrities are no exception. In fact, some of the most popular Nigerian celebrities have millions of followers on Instagram.
List Of Most Followed Nigerian Celebrities on Instagram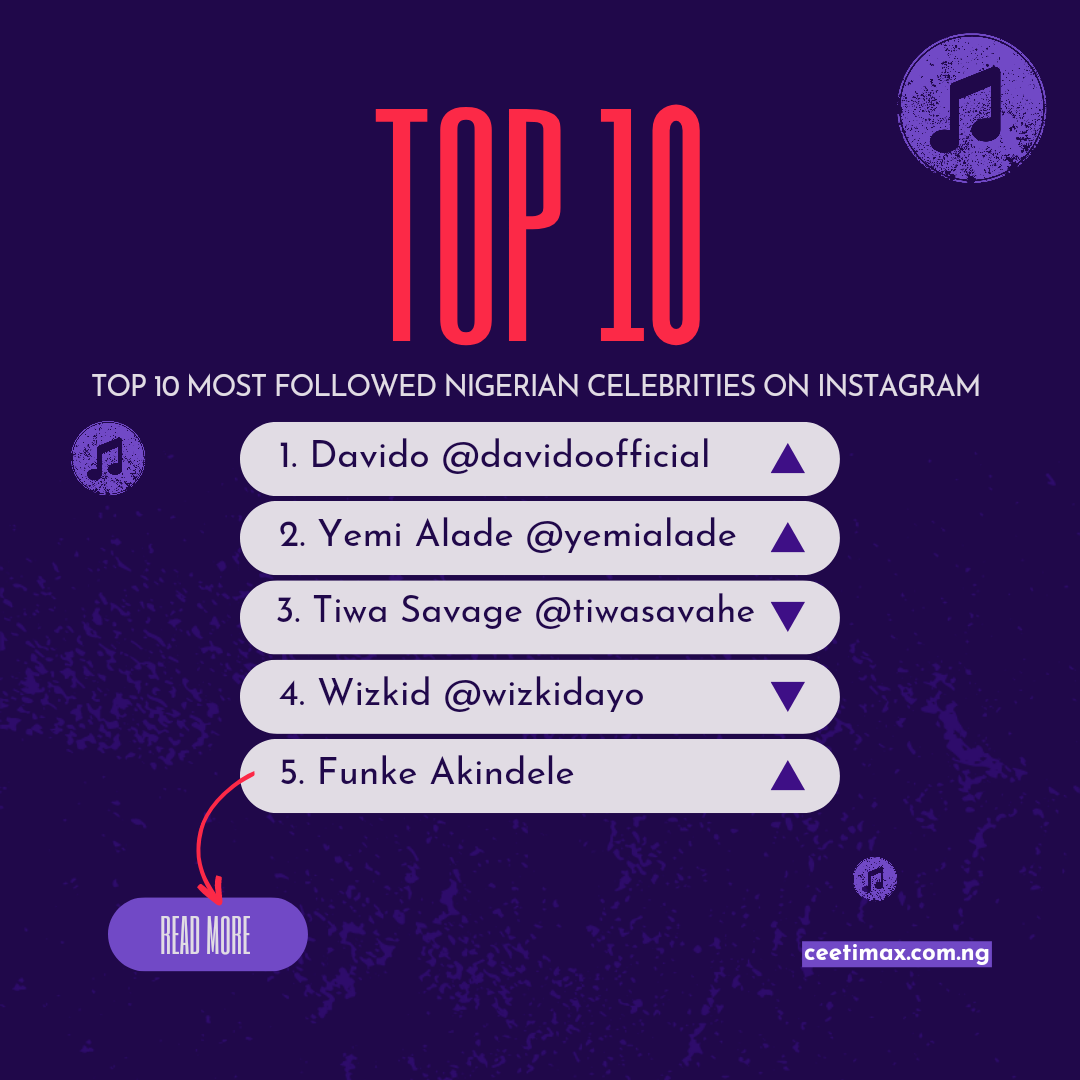 Here is a list of the top 10 most followed Nigerian celebrities on Instagram, as of August 2023:
1. Davido (@davidoofficial) – Followers: 27.5M
Arguably one of Nigeria's most famous artists, Davido effortlessly captures the hearts of millions with his chart-topping music and charismatic personality. With a staggering 27.5 million followers on Instagram, he uses the platform to share snippets of his electrifying performances, candid family moments, and philanthropic endeavors.
Also Read: Chinonso Arubayi Net Worth And Biography, Age, Husband, Son and Career
2. Yemi Alade (@yemialade) – Followers: 17.5M
Afropop diva Yemi Alade has taken the world by storm with her powerful vocals and vibrant energy. With 17.5M million followers, she mesmerizes her fans with captivating stage performances, fashion-forward posts, and her unwavering love for African culture.
3. Tiwa Savage (@tiwasavage) – Followers: 17.3M
The "Queen of Afrobeats," Tiwa Savage, holds her reign on Instagram with over 17.5 million loyal followers. Her sultry voice and empowering lyrics have earned her a special place in the hearts of music enthusiasts worldwide. Tiwa's Instagram feed is a mix of fashionable outfits, studio sneak peeks, and heartwarming interactions with her fans.
Learn More: Markus Ortega Age, Net Worth, Biography, Parent, Siblings
4. Wizkid (@wizkidayo) – Followers: 17.2M
A true sensation in the Nigerian music industry, Wizkid's Instagram boasts an impressive following of 17.2M million. The Grammy-winning artist has collaborated with international stars and consistently delivers chart-topping hits. His Insta feed showcases glimpses of his extravagant lifestyle and backstage shenanigans.
5. Funke Akindele (@funkejenifaakindele) – Followers: 15.8M
Actress, producer, and all-around entertainer, Funke Akindele, has won the hearts of many through her popular TV series and hilarious movie roles. With 15.8 million followers, she uses her Instagram presence to spread joy, humor, and motivational messages.
6. Don Jazzy (@donjazzy) – Follower 14.8 M
As of August 2, 2023, Don Jazzy has 14.8 million followers on Instagram. This makes him the 6th most followed Nigerian celebrity on the platform. His username is @donjazzy.
Don Jazzy is a Nigerian record producer, entrepreneur, and DJ. He is the founder of the record label Mavin Records. He has produced music for some of the biggest names in Nigerian music, including Wizkid, Tiwa Savage, and D'banj.
Don Jazzy is very active on Instagram. He posts regularly about his work, his personal life, and his travels. He also uses Instagram to promote his music and his brand.
7. Burna Boy (@burnaboygram) – Followers: 14.6M
A global music icon, Burna Boy's Afrofusion tunes have earned him a dedicated fan base of 14.6 million on Instagram. The self-proclaimed "African Giant" uses the platform to share snippets of his electrifying performances, worldly travels, and messages of African pride.
Read More: Top 20 Celebrity Wives in USA And Their Net Worth
8. Ini Edo (@iniedo) – Followers: 13.6
With 13.6 million followers, Ini Edo is not just a talented actress but also a fashion icon. Her Instagram is a visual treat of exquisite outfits, lifestyle snapshots, and inspirational quotes.
9. Mr. P (@peterpsquare) – Followers: 12.2M
As one half of the defunct P-Square duo, Mr. P, aka Peter Okoye, boasts 12.2 million followers on Instagram. Known for his dance moves and catchy tunes, he uses the platform to engage with his fans and share exciting updates about his music ventures.
10. Genevieve Nnaji (@genevievennaji) – Followers: 8.4M
As one of Nollywood's most respected actresses, Genevieve Nnaji's talent extends beyond the silver screen. Her Instagram feed, followed by 9.7 million, showcases her elegance, philanthropy work, and behind-the-scenes glimpses of her acting projects.
---
For SPONSORSHIP and Inquiries: WhatsApp | ceetimax@gmail.com