Ever wondered how to cut papaya before eating? Well, it's easy and I will walk you through the process.
But before that, we will need to take a look at what a papaya is and the origin of its name.
What is papaya fruit?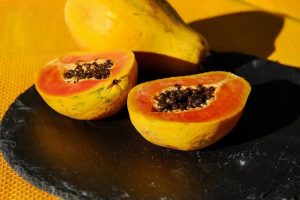 Papaya is a tropical American evergreen tree. It is also called Carica papaya, having large, yellow, edible fruit.
The name papaya comes from Spanish, originally from Arawak papáia. Although it's mostly called pawpaw by some people.
Papaya is very rich in Vitamin and is always recommended for consumption.
Where can you mostly find papaya?
When you come down to Africa, you would find it almost everywhere. The fruit juice is so amazing that everyone owns a tree of papaya.
Unlike other fruits that are mostly seasonal like the mango, papaya can produce fruit anytime all around the seasons.
Simple steps to cut papaya fruit.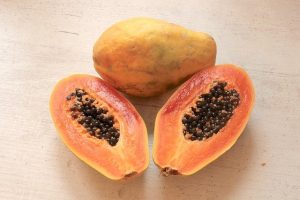 Get the fruit from the tree when you notice it's ripe and ready for consumption.

Wash the skin properly so that dirt won't be attached to it.

Get a sharp kitchen knife and a tray to place it while peeling it.

Cut the papaya vertically on two sides then peel it off, you don't just eat it like that. You make sure to also remove the seeds with either your hands or with the knife.

After peeling it, you can serve it on a plate and start consumption.
I hope I was able to tutor you on how to cut a papaya fruit perfectly.
 How do you know when a papaya is ripe?
It's easy, the moment you look up and find the fruit of papaya yellowish with some little amount of green patch, it is ripe.
The sweetest kind of ripe papaya is one that is yellowish because it is kinda very soft and it just melts in your mouth when eating.
Due to how sweet papaya (pawpaw) is there's a children's rhyme that tells the story of how yummy papaya is. It sounds funny but it's kinda cute when kids are reciting it.
The rhyme is as follow—
PAWPAW IS A KIND OF FRUIT (x2) SWEET LIKE SUGAR, YELLOW LIKE FANTA AND EVERYBODY LOVES PAWPAW. PAWPAW!!!