There are some sets of rules to follow in other to enjoy your relationship.
There's nothing like a successful relationship if your  spouse isn't happy.
Remember, in other to tag your love life a success, the following are the tips I call the commandments of a relationship.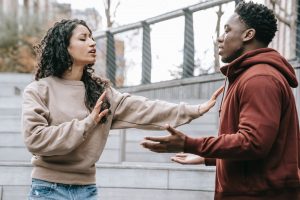 • Thou shall not continue living in an abusive relationship.
If it isn't working, then there's no need to kill yourself over it.
"A broken relationship is far better than a broken marriage" plus avoid being ba victim before you can do the needful; the signs are always there.!
• You should always love your partner with all your heart.
Although at some point in every relationship, the feelings begins to feel like it's being forced. When you see this coming try to talk things out with your partner concerning it.
Sometimes the turn off might be because of a very little misunderstanding or change of character.
Also Read : Thing you need to achieve before 30
• You should always respect each other-
regardless of anything, respect is a very essential part of a successful relationship learn to treat your partner the way you want to be treated.
• Always learn to attend to one another needs –
Support is the backbone of every relationship,

nevertheless many people have different desires in a relationship. The truth still remains that to meet with certain humans needs isn't always easy that's why you must understand each other to better know what works for you.
Recommended: Is it bad for a lady to ask a guy out.?
• Appreciate one another efforts –
Every good deeds deserves accolades, acknowledge when your partner does something unique to put a smile on your face.
AliExpress.com Product – Quick Dry Padded Sports Bra,Women Wirefree Adjustable Fitness Top Sport Brassiere,Push Up Seamless Running Yoga Bra.
Sometimes you don't realize you are the strength behind your partner's recent achievements, it all runs down to how you encourage each other to never give up in life.
Most people go out of their league just to make you proud and at that moment all they really want is a token of appreciation from you.
• Pray for each other –
What most people don't realize is the power behind prayers.
Most of the time the challenges you face in your relationship doesn't only need physical counseling but spiritual intervention.
Take your time to commit everything including your relationship to the hands of he who made the universe.
This commandments are not just based on relationship, implies to our day to day lives.
Check This : How to attract people with yourself
Summary√
I believe when we do the right thing, everyone will definitely have a reason to smile and be happy.