Oba Lamidi Adeyemi, the Alaafin of Oyo III  passed away on the 22 of April 2022. He had a net worth $40 million. The alaafin of oyo was a famous monarch in the yoruba land. He had lots of wives, investments and lived for a very long time.
Public Profile of Lamidi Adeyemi ( Alaafin of Oyo)
Full names: Lamidi Adeyemi Olayiwola Adeyemi
Popular as: Alaafin of Oyo
Date of birth: October 15, 1938
Age: 83 years as of 2022
Died: April 22, 2022
Spouse/wives: Ayaba Abidat Adeyemi and others
Parents: Oba Adeniran Adeyemi II, Ibironke
Religion: Islam, Yoruba religion
Predecessor: Gbadegesin Ladigbolu II
Reign: November 18, 1970— April 22, 2022 ( 51 years)
Early Life of Alaafin of Oyo
The Alaafin of Oyo whose full names are Lamidi Olayiwola Atanda Adeyemi was an 83 years old monarch of Oyo who was born on October 15, 1938, into a royal family.
His father, Raji Adeniran Adeyemi was an Alaafin in 1945, and his mother Ibironke. The Alaafin of Oyo lost his mother at an early age.
Read More: Ummi Rahab Tiktok, net worth and biography
It is also recorded that his grandfather from his father's side had over 200 wives during his reign as the last independent ruler of the Oyo People before the arrival of the British ( Colonial Masters).
It is also recorded that great grandfather of Lamidi Adeyemi was the direct descendant of Oranmiyan, the founder of the Oyo empire.
Personal Life of Lamidi Adeyemi
The Alaafin of Oyo, Lamidi Adeyemi had twelve wives when he was alive. He was very fond of his first wife Ayaba Abidat Adeyemi. He was mostly seen with her at occasions, events, and sometimes with any of his other wives.
Also Read: Victoria Beckham Net Worth and Biography 2022
Before he ascended the throne as Oba of Oyo, Lamidi Adeyemi was a boxer. He was a die-hard fan of boxing, even in his old age was always exercising and waxing strong.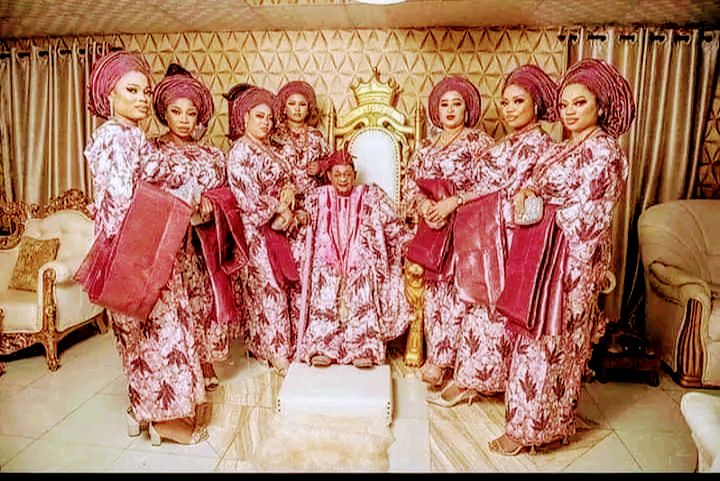 The Alaafin of Oyo, Oba Lamidi Olayiwola Atanda Adeyemi's wives are as follows—
Ayaba Abidat Adeyemi
Ayaba Rahmat Adedayo Adeyemi
Ayaba Mujidat Adeyemi
Ayaba Rukayat Adeyemi
Ayaba Folashade Adeyemi
Ayaba Omobolanle Adeyemi
Ayaba Memunat Omowunmi Adeyemi
Ayaba Anuoluwapo Adeyemi
Ayaba Damilola Adeyemi.
Oba Lamidi's  Cause of death
The Alaafin of Oyo, Oba Lamidi Adeyemi passed away on April 22, 2022, at the Afe Babalola University teaching hospital, Ekiti in Ekiti State. He died at the age of 83 after a brief illness. Lamidi Adeyemi's reign is reported to be the longest of all the Alaafins of Oyo. He had reigned for 51 years as the Alaafin of Oyo. The death of Oba Lamidi Adeyemi was announced the next morning after he had passed on by different news outlets. His remains have been returned to his land at Oyo.
Also Read: Funmi Awelewa net worth and biography
Net Worth of Alaafin of Oyo Oba Lamidi Adeyemi
As at the time of writing this article about the net worth of Oba Lamidi Adeyemi, He had an estimated net worth of $40 million (15.6 billion Naira). The Oba was one of the richest monarchs in Nigeria and in the Yoruba land. He had fleets of different cars, houses in different states, even in Lagos State, and farmlands. The Oba was also said to be a politician. He ranked the second richest monarch in the Yoruba land.
Reference: Wikipedia