I will be showing you how to write an application letter for any job in Nigeria.
In case you're having issue writing a well optimized and constructive application letter, that's where I have to come in.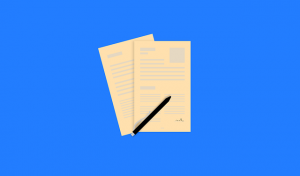 Before you're employed by any private or public sector, some of the requirements includes an application letter, Curriculum Vitae Which is popularly known as CV and be informed that it a formal letter.
And what is a CV? Your CV is a written report about you, stating your complete information, past jobs and educational qualifications.
All these are required when you want to write an application for in Nigeria.
Before I proceed with an example of what type of application letter to submit, the following are the requirements to include.
Application Letter.

Curriculum Vitae.

Valid Passport.
Take note that most entities who ask for written application letter in Nigeria what to read about where you've worked before. Whether or not you have experience for the position you are applying for.
You also need to learn how to express your self very well. Some of this jobs need people who can verbally express themselves.
 To write and submit an application letter in for the year 2022, make sure you adhere to the following. 
Make sure the job is one you can handle because a lot of people tend to flee after getting employed. Those who do this were maybe misinformed regarding the job. Or the stress that comes from it wasn't what was expected.

You are in agreement with the paycheck. Here in Nigeria you don't work per hour so does your payment scheduled.
You work from Monday to Friday and some can extend to Saturday. Those who create work shifts sometimes need workers to show up on Sundays.
My job for instance, I work from Monday to Sunday but not often. Most times I don't go to work for a whole week but it can be very tasking when I have work.
Below is how to write a formal application letter in Nigeria PDF file.
Since the format won't be displayed accordingly, I will have to upload a PDF file of an example of what a application letter you want to submit for any job in Nigeria.
Just download the attachment file and make some editing and you can submit it anywhere.
[pdf-embedder url="https://www.ceetimax.com.ng/wp-content/uploads/2021/12/No.5-Amadi-Exts-WPS-Office.pdf" title="How to write an application letter in NigeriaExts-WPS Office"]